The festive meeting of writing group, Manchester Scribes, was marked with a lively and fun interactive workshop on script writing delivered by group member, Helen Sea. Manchester Scribes is a closed critiquing group meeting one Saturday every month in the city centre but from time to time we have a workshop. This one followed on from workshops earlier in the year from guest speakers, Lorraine Mace on flash fiction and Cathy Bryant on writing competitions.
Bringing out our acting skills, Helen introduced us to television, radio, film and theatre scripts from 'Desperate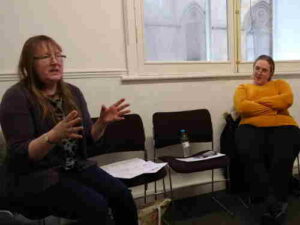 Housewives' and 'Barchester Towers' to 'Suffragette' and Shakespeare. We looked at the similarities and differences in the way the scripts were formatted and what they included (or excluded) and compared and contrasted this with our normal novel and short story writing. It showed us the importance of sharp dialogue and the use each medium made of the senses. Interestingly, there is a trend in play writing at the moment to give as little stage direction as possible to allow productions to interpret scripts creatively. This is similar to picture book texts not having too many illustrations notes for the same reason.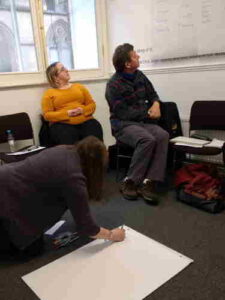 After a biscuit break, we had a brainstorming session where we produced a list of values and issues. We then took one from each list and entered our own 'writing room' with Helen as chief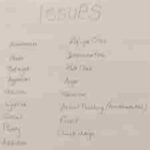 scriptwriter. We chose 'empathy' as our value and 'poverty' as the issue. From those we collaborated on a script set in a soup kitchen under threat of closure. We then acted it out. Although we had all the right ingredients – a promising situation with a cast of diverse characters and intriguing conflict – I'm not quite sure it's ready for Hollywood or the West End yet.